JT Mobility Type-2 IEC 62196-2 is a standard for electric vehicle (EV) charging connectors and cables. The IEC 62196-2 EV cable is a popular and widely used charging cable that is designed to provide a safe and reliable charging solution for EV owners.
The IEC 62196-2 EV cable comes with a range of features that make it a versatile and efficient charging solution for EVs. It is compatible with all Type-2 charging stations, which are becoming increasingly common in public charging infrastructure. The cable is designed to handle up to 32 amps of power, providing a fast and efficient charging experience.
In addition, the IEC 62196-2 EV cable is designed with safety in mind. It features multiple safety features.
The IEC 62196-2 EV cable is compatible with all Type-2 EVs, including popular models from Mercedes, BMW, Nissan, Audi, BYD and other major EV brands. The cable is designed with a robust and durable construction, ensuring that it can withstand frequent use and heavy wear and tear.
The Type-2 EV cable is designed to be user-friendly and easy to use. Simply plug it into the charging station and your EV, and the charging process will begin automatically. The cable also features a locking mechanism that ensures a secure connection between the charging station and your EV.
Type-2 AC Charging Cable IEC 62196-2 Charging Gun with Cable
JT Mobility Three Phase / Single Phase 16A/32A Type 2 tethered charging cable is designed for charging in mode 3, it is suitable for connection and charging from all private and public AC charging stations. Type-2 AC charging cable comprise of vehicle charging connector and open cable end wire, for charging electric vehicles (EV) with alternating current (AC), The connector has an ergonomic shape, which ensures easy and comfortable handling and connection. When the cable is connected, it is protected against the ingress of particles and water. The protective cover has a degree of protection IP55 and protects against ingress of dust. This open-end cable replacement is to be integrated to the charging station. You can charge your EV that has Type 2 port. The product has a nice appearance, a hand-held ergonomic design and is easy to plug.
Plug in/pull out >10000 times.
It is suitable for Type 2 vehicle inlets and connects charging stations.
Meet IEC 62196-2 standard.
Plug Material: Thermoplastic UL94 V-0,
High Grade TPU/TPE Cable
Rated with IP55 (working condition).
Pin Material: Copper Alloy & Silver Plating
Nice appearance, hand-held ergonomic design, easy plug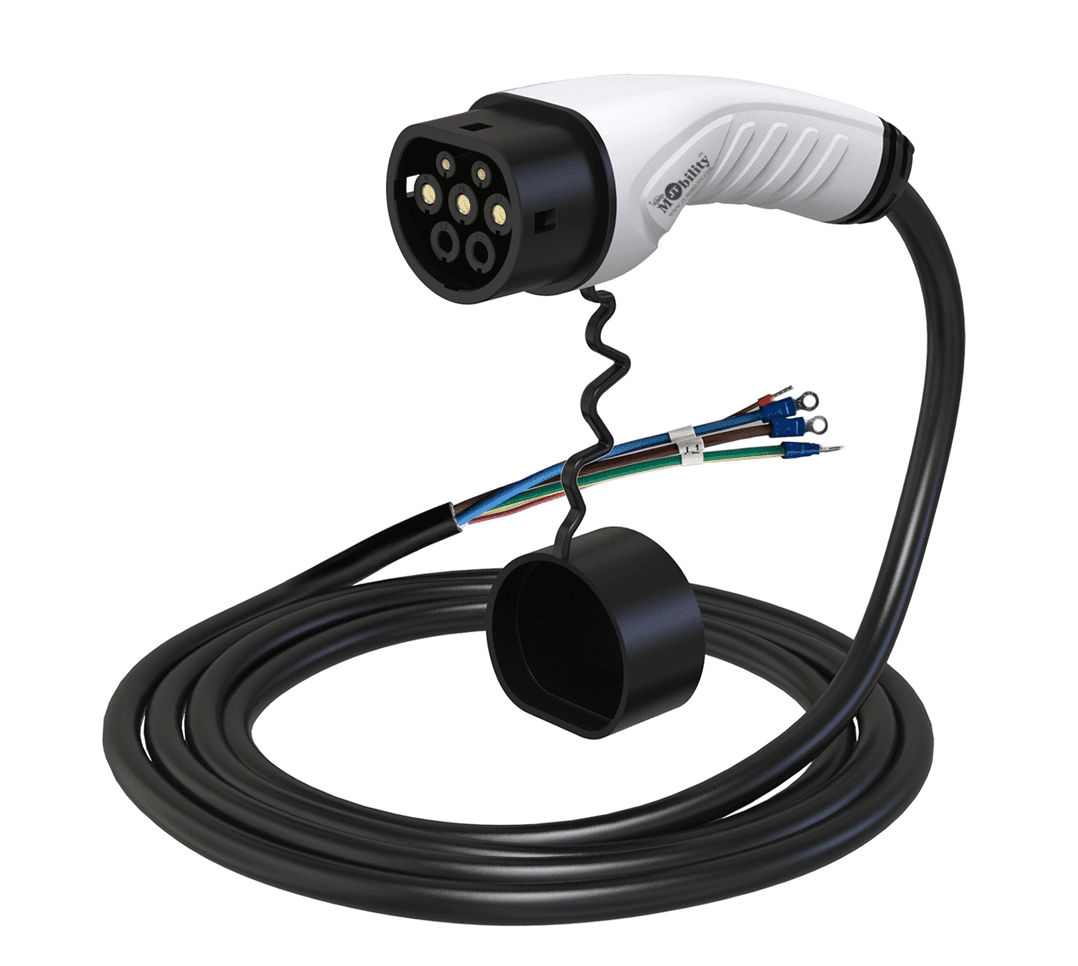 Showing 1 to 4 of 4 (1 Pages)